Bright & Easy Nail Art Tutorial By Julep
Bright and Easy Nail Art Tutorial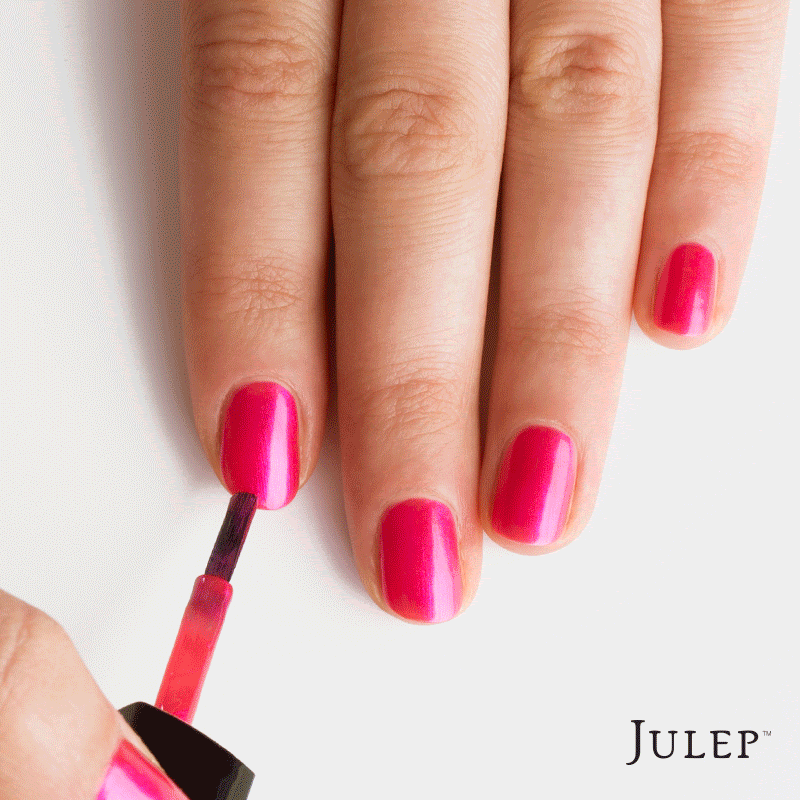 In addition to surfing Pinterest for recipes, decor and make-up tips--- I also search for really cute and simple nail art ideas. I love bright fun nails! A cute mani is just as important as having your hair and brows on "fleek". Yes, I just used fleek (no judgement).
Well, I came across this really fresh new nail art tutorial from one of my favorite nail polish companies, Julep. They created a tutorial that shows just how easy it is to give yourself a bright and fun mani using three of your favorite colors.
Disclosure: This post does contain affiliate links but I will never suggest any product I do not stand by and use myself.
1. Apply one coat of pink polish and let dry completely.
2. Use Striping Brush to apply lemon-lime at an angle on lower portion of your nail. Let dry completely.
3. Use Striping Brush to apply purple on the tip of nail. Apply a top coat and you are done!
Wasn't that easy?
This is so convenient for me because I am a Julep Maven. That means every month Julep delivers fun nail polishes to my door at a discounted price. I am a sucker for a great deal. If you are not a Julep Maven, no worries! If you join Julep Maven now, you get all three of these bright and beautiful summer shades (Sam, Polly and Denise), two buffer blocks and two nail art tools perfect for creating your favorite nail designs as your free welcome gift. The limited-edition Treat Me Nail Art Welcome Box is valued at $58, but is yours free (just pay $2.99 shipping) when you sign up for a Julep subscription. Yes, I just said free!
As a Julep Maven you'll receive a box of brand-new, full sized nail color and beauty products each month – and you deserve it! A few of my favorite reasons for being a Maven:
Julep Maven is affordable. Every month you get more than $40 of full-size products for just $24.99 per month (tip - prepay for three months at a time and save $15).
Julep Maven is the only customizable box of full-size, limited-run nail colors and beauty innovations. That means no surprises, no dupes or colors you don't like. You can see what is in your box each month and have the option of swapping out colors/products you already have or don't want.
Julep Mavens get 20% off all single product purchases, free shipping, early access to secret sales. If you are passionate about your polish, that adds up to some amazing savings!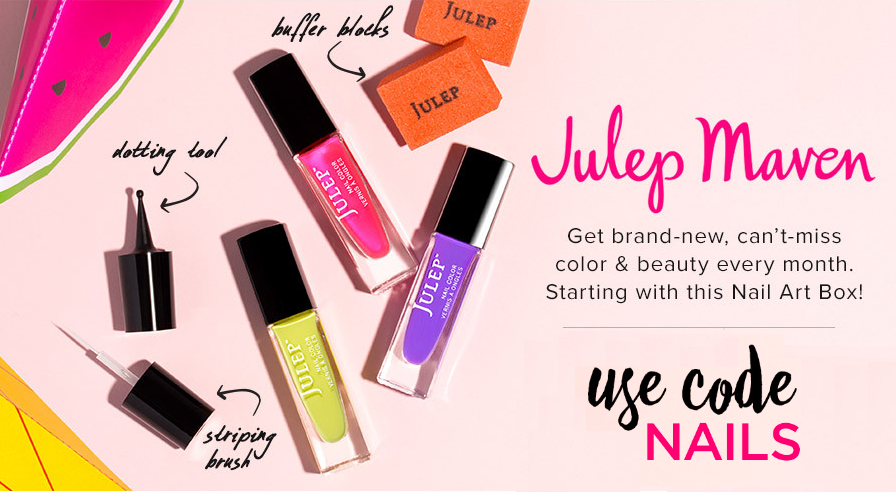 Get started now! Join Maven and get the Treat Me Nail Art Welcome Box FREE ($58 value) - just pay $2.99 shipping using the code NAILS. Want an even better deal? Pre-pay for your first three months of Maven and get the Welcome Box and shipping FREE. Either way, you are going to LOVE being a Maven.
Enjoy!!